Isn't the word "feminism" itself gender-biased?
Google's new application called Ngram Viewer lets you see how frequently any terms or phrases appeared in books over time. The data is based on the millions of books Google digitized. As you can see below, the occurrence of the word "feminism" peaked in 1996 and has been in decline since. But, in the same period of time (from 1980 to 2008), the occurrence of the phrase "gender equality" has steadily grown.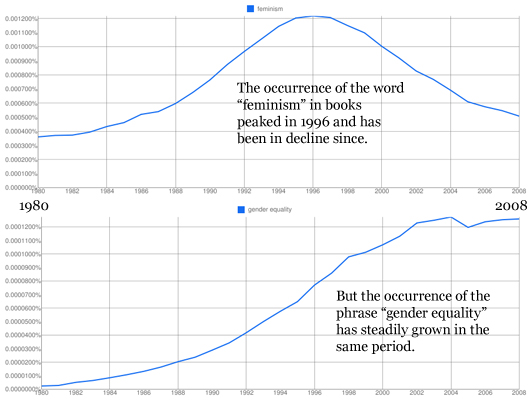 This makes intuitive sense to me. Now that the economy assumes each household to have two people earning income, in order to sustain a decent lifestyle, men need and want their wives to work. It is no longer a matter of choice. In other words, "gender equality" is just as important for men as it is for women. However, men are much less likely to identify themselves as "feminists" because the word itself implies gender bias; i.e., someone who advocates for the interests of women. The men who are interested in gender equality would not want to advocate for women or for men. The point is to eliminate gender bias as much as possible. In that sense, the word "feminism" or "feminist" does not make sense; it feels awkward and inappropriate. I believe the first graph above reflects that.
Language has subtle yet powerful ways of influencing our values and behavior. This is why certain words have been deemed politically incorrect and have been replaced by new words, like "black" to "African American". I feel that it's time for us to retire the word "feminism" as it does not make sense for the ideal of gender equality itself to have gender bias. What do you think?